Play@Sheraton – Sheraton Bali Kuta Resort's Kid's Club
Play@Sheraton is created especially for kids to enjoy during their time in Bali. The kid's club will become a focal point to accommodate the needs of your family and enhance your children's experience by creating a safe and fun environment.
As one of the five-star hotels in Bali with a kid's club, Sheraton Bali Kuta Resort ensures a world class facility. The Play@Sheraton concept is based on a simple goal, EDUTAINMENT (Education and Entertainment). The kids club aims to facilitate intellectual stimulation and fun through engaging and captivating activities. Our club also offers entertaining ways to learn and explore Bali's culture, community, and people. To further enhance your kids' experience, we have divided our programs into two different age groups:
3 – 5 years old: Kids Zone.
Introduce your little ones to technology, while exploring the world of their favorite character and games.
6 - 12 years old: I'm an Explorer.
For the curious mind, this program offers children the opportunity to play and learn throughout their stay with activities ranging from art creations, exposure to the local culture and advance technology.
Lastly, as a welcome gift, each child will receive a Sheraton drawstring bag which contains a lot of fun stuff as part of the PLAY@SHERATON EXPERIENCE, upon check in.

Play@Sheraton Open for Public
Play@Sheraton, at Sheraton Bali Kuta Resort's kids club is now open to public. Providing a safe and fun five-star environment for your kids while you run errands or enjoying a guilt-free break! Play@Sheraton's concept is based on a simple goal, EDUTAINMENT, combining educational entertainment to explore their creativity. In the outdoors, they can splash around in the kid's pool or run around the sand pit playground.
Admission fees are priced at IDR70,000 net/child/hour from 8:00 AM – 9:00 PM daily. Booking in advance is recommended or just visit us at level 2, Beachwalk Mall (2A-2B).
PLAY@SHERATON FACILITIES:
• Welcome area
• Communal table with 3 computer stations
• 42" TV with international channel selection and DVD movies
• PlayStation 3
• Complimentary wireless internet access
• Local and international books selection
• Mini toilet and wash basin
• Outdoor sandpit
• Outdoor wet area with cascading water feature
And last but not least your children will have an amazing in-room experience as special amenities are set up for the little ones.
Click here to view the Play@Sheraton factsheet for the detailed information or click here to reserve your rooms.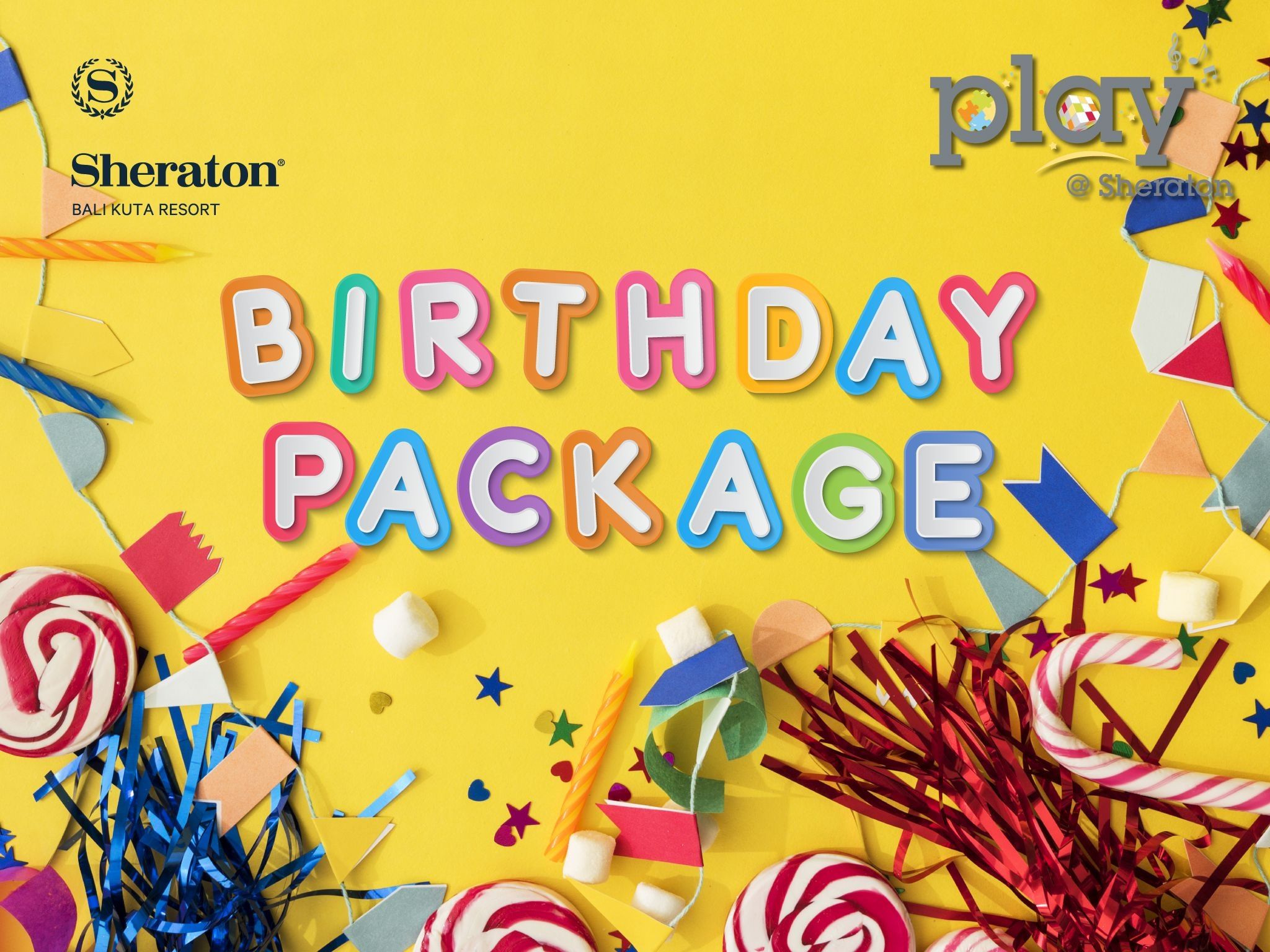 Birthday Package
If you're looking for the perfect place to spoil your little ones during their birthday, Play@Sheraton is the right place! With spacious interiors and an interactive outdoor area, kids can spend the day splashing around in the kid's pool or play around the sand pit playground.
CLICK HERE for details.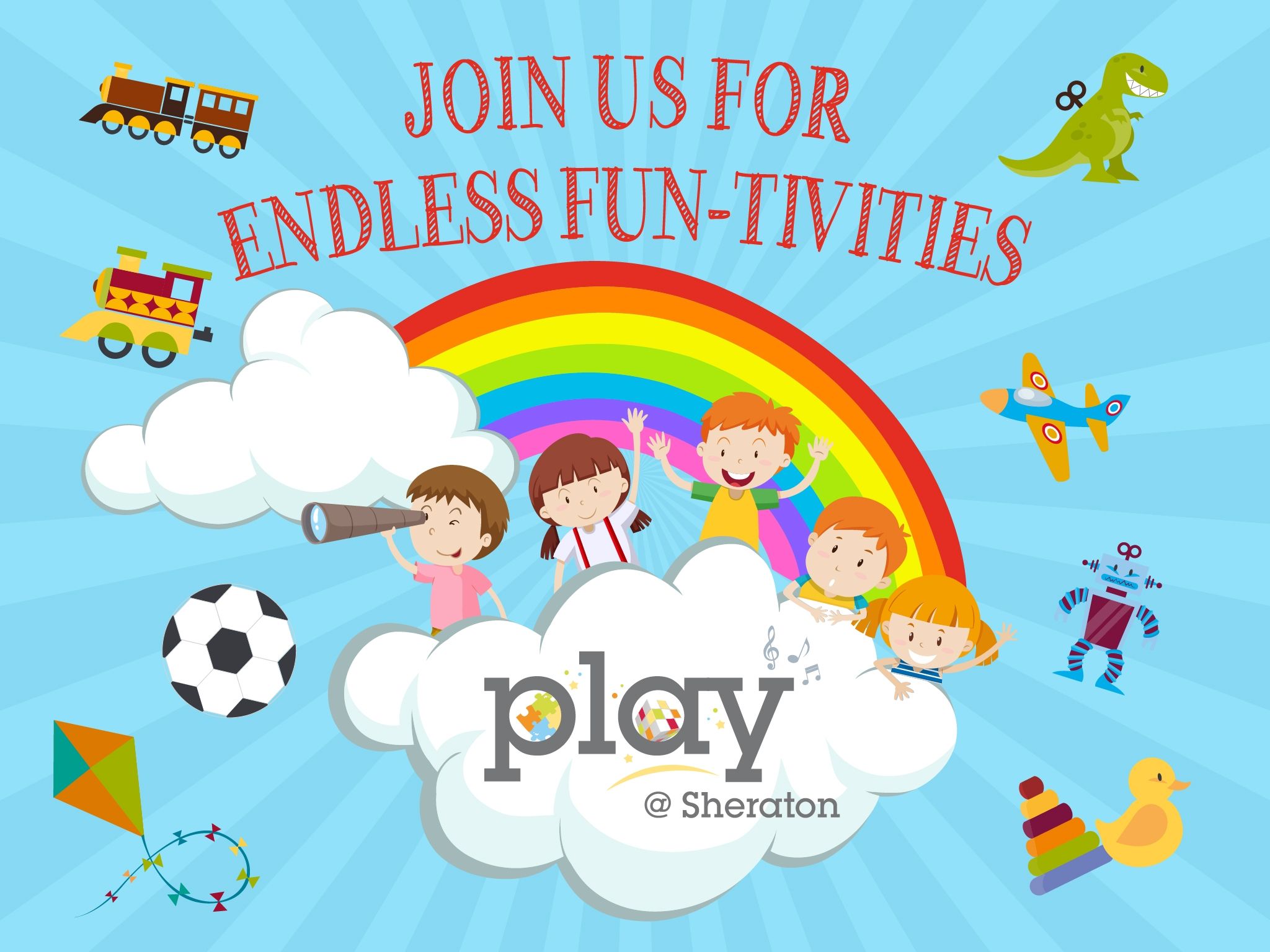 Play@Sheraton - Kids Club Membership
Join us for endless fun-tivities.
Be a member today and enjoy exclusive access to the kids club and benefits for all.
Redeem your complimentary 1-hour access* to Play@Sheraton today!
*Terms & conditions apply
CLICK HERE to sign up.